IPL 2022 - The Biggest Party is Back!
With the IPL 2022 just around the corner, cricket enthusiasts all over the country are getting copious doses of adrenaline rush. According to the new schedule, the 15th edition of the Indian Premier- Tata IPL 2022 will start on 26 March 2022 in Wankhede Stadium, Mumbai. BCCI has also revealed that the final match will be held on 29 May 2022. Set to be held in 4 venues of Mumbai and Pune, IPL 2022 will follow the same format as its previous editions. The ten teams will be divided into 2 groups, and within a group, every team will be pitted against each other twice. Group A and Group B teams will play each other once. Each team from both groups will play one more match, which will be selected on the basis of the draw. To put it in a nutshell, each team will play 14 league matches. There were 2 qualifiers, 1 eliminator and the Final, making it a total of 74 matches.
Why is IPL Betting Bettor's Number 1 choice?
In T20 tournaments, the bright side of betting is either winning or losing. Punters show excitement towards this format as none of the matches would ever end up in a draw, which makes them earn good returns if their predictions are right.
IPL fans and seasoned cricket bettors know that this popular game can be played for cash. Online IPL betting gives a fair and square opportunity to earn money while you root for your favorite team and player. IPL Betting Tips and Predictions are available on Fun88 — the best IPL Satta platform for bettors.
IPL Teams 2022
Let's look at which teams will be locking horns with each other this IPL 2022:
| | |
| --- | --- |
| Chennai Super Kings | Kolkata Knight Riders |
| Delhi Capitals | Mumbai Indians |
| Sunrisers Hyderabad | Rajasthan Royals |
| Kings Xl Punjab | Lucknow Supergiants |
| Royal Challengers Bangalore | Gujarat Titans |
With the addition of two new teams, Lucknow Supergiants and Gujarat Titans, the thrill of the IPL is bound to go notches higher!
IPL Winner History
Below is the Indian Premier League winner's list. We're now awaiting which team will win the IPL 2022 title.
| IPL Season | Year | Winner Team |
| --- | --- | --- |
| 14 | 2021 | Chennai Super Kings |
| 13 | 2020 | Mumbai Indians |
| 12 | 2019 | Mumbai Indians |
| 11 | 2018 | Chennai Super Kings |
| 10 | 2017 | Mumbai Indians |
| 09 | 2016 | Sunrisers Hyderabad |
| 08 | 2015 | Mumbai Indians |
| 07 | 2014 | Kolkata Knight Riders |
| 06 | 2013 | Mumbai Indians |
| 05 | 2012 | Kolkata Knight Riders |
| 04 | 2011 | Chennai Super Kings |
| 03 | 2010 | Chennai Super Kings |
| 02 | 2009 | Deccan Chargers |
| 01 | 2008 | Rajasthan Royals |
IPL 2022 Final Players List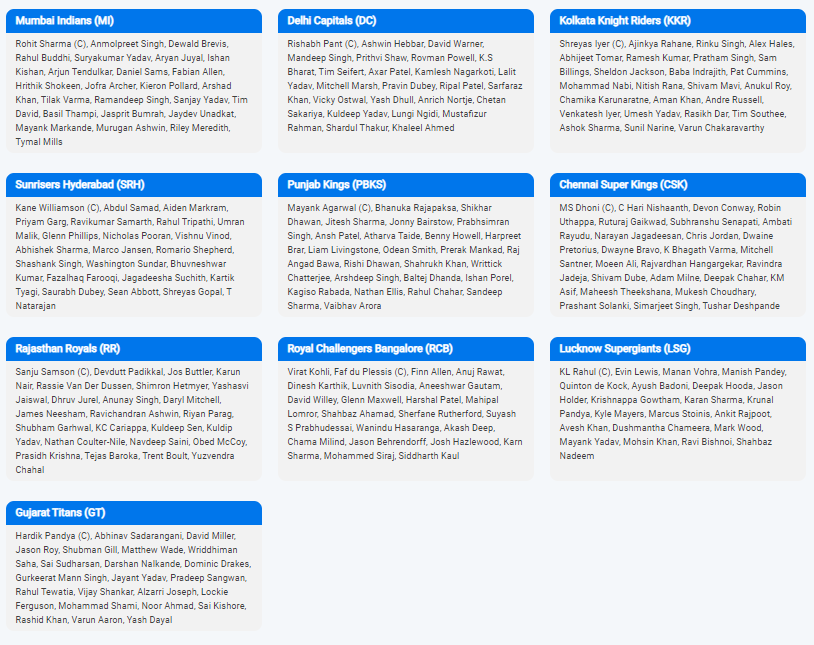 Exciting IPL Betting Opportunities
Fun88, a leading IPL live betting website, offers the perfect platform for bettors to place bets safely. Punters can make deposits and withdrawals with real money! Fun88 ensures a fast payout and fair odds as you enjoy the thrilling matches of IPL.
We are associated with prominent gaming platforms including Betb2b, saba, BTi and Betfair for Sports betting - having sportsbook and exchange respectively and Microgaming, PlayTech, Evolution, SuperSpade, Ezugi, NetEnt and IDN Poker for Live Casino and Slots
Why Choose Fun88 for IPL 2022 betting?
1. Live streaming: You get live streaming of each match once you sign up.

2. Variety of Odds: Fun88 is ideal for bet prediction as we offer live betting odds for IPL 2022. You will get access to team statistics, odds, match-ups, and more features for you to place your bet. To get more out of your betting strategy, you can place bets on the top batsman, top bowler, top fielder, total runs, total wickets, total fours or sixes, total ducks, man of the match, highest opening partnership etc. As the odds keep changing, you'll need to be quick in taking action- to avoid failed bets.

3. Flexible viewing options: You can also choose to display odds using either fractional, decimal, or American odds views, depending on your preferences. However, be fully aware of the pay-outs you can expect on your winning bets.

4. Sports Exchange: Very few betting sites have the option of an exciting sports exchange which is like a marketplace where bettors can put up their own odds and other players can participate via a variety of fancy odds. You can even bet on special events like Who will win the next big boss, next elections etc.

5. Variety of payment options: From net banking and wallets to -cryptocurrency, we have you covered. Choose from a plethora of safe & secure payment options to make deposits.

6. Easy withdrawals: Once you complete the rollover requirements, you can withdraw your money easily in the bank of your choice.
IPL 2022 Frequently Asked Questions (FAQ)
1. How many matches will each team play in IPL 2022?
Going by the schedule of the IPL 2022, a total of 74 matches will be played within a time span of 64 days. This includes 70 group stage matches and 4 playoffs. Each team will play 14 matches each in the group stages.

2. Where to watch the IPL 2022 live on TV?
You can catch all the action of the IPL 2022 live on Star Sports network.

3. Which teams will play the first match of the IPL 2022?
The first match of the IPL 2022 will be played by Chennai Super Kings (CSK) and Kolkata Knight Riders (KKR)

4. Where will the first IPL 2022 match be played?
The first match of the IPL 2022 will be played at Wankhede Stadium, Mumbai, Maharashtra.

5. When is the final match of the IPL 2022?
The final match of the IPL 2022 is scheduled for the 29th of May, 2022.
| Match No | Match Centre | Date | Time (IST) | Venue |
| --- | --- | --- | --- | --- |
| 1 | CSK vs KKR | March 26, 2022 | 7:30 PM | Wankhede Stadium |
| 2 | DC vs MI | March 27, 2022 | 3:30 PM | Brabourne – CCI |
| 3 | PBKS vs RCB | March 27, 2022 | 7:30 PM | DY Patil Stadium |
| 4 | GT vs LSG | March 28, 2022 | 7:30 PM | Wankhede Stadium |
| 5 | SRH vs RR | March 29, 2022 | 7:30 PM | MCA Stadium, Pune |
| 6 | RCB vs KKR | March 30, 2022 | 7:30 PM | DY Patil Stadium |
| 7 | LSG vs CSK | March 31, 2022 | 7:30 PM | Brabourne – CCI |
| 8 | KKR vs PBKS | April 1, 2022 | 7:30 PM | Wankhede Stadium |
| 9 | MI vs RR | April 2, 2022 | 3:30 PM | DY Patil Stadium |
| 10 | GT vs DC | April 2, 2022 | 7:30 PM | MCA Stadium, Pune |
| 11 | CSK vs PBKS | April 3, 2022 | 7:30 PM | Brabourne – CCI |
| 12 | SRH vs LSG | April 4, 2022 | 7:30 PM | DY Patil Stadium |
| 13 | RR vs RCB | April 5, 2022 | 7:30 PM | Wankhede Stadium |
| 14 | KKR vs MI | April 6, 2022 | 7:30 PM | MCA Stadium, Pune |
| 15 | LSG vs DC | April 7, 2022 | 7:30 PM | DY Patil Stadium |
| 16 | PBKS vs GT | April 8, 2022 | 7:30 PM | Brabourne – CCI |
| 17 | CSK vs SRH | April 9, 2022 | 3:30 PM | DY Patil Stadium |
| 18 | RCB vs MI | April 9, 2022 | 7:30 PM | MCA Stadium, Pune |
| 19 | KKR vs DC | April 10, 2022 | 3:30 PM | Brabourne – CCI |
| 20 | RR vs LSG | April 10, 2022 | 7:30 PM | Wankhede Stadium |
| 21 | SRH vs GT | April 11, 2022 | 7:30 PM | DY Patil Stadium |
| 22 | CSK vs RCB | April 12, 2022 | 7:30 PM | DY Patil Stadium |
| 23 | MI vs PBKS | April 13, 2022 | 7:30 PM | MCA Stadium, Pune |
| 24 | RR vs GT | April 14, 2022 | 7:30 PM | DY Patil Stadium |
| 25 | SRH vs KKR | April 15, 2022 | 7:30 PM | Brabourne – CCI |
| 26 | MI vs LSG | April 16, 2022 | 3:30 PM | Brabourne – CCI |
| 27 | DC vs RCB | April 16, 2022 | 7:30 PM | Wankhede Stadium |
| 28 | PBKS vs SRH | April 17, 2022 | 3:30 PM | Brabourne – CCI |
| 29 | GT vs CSK | April 17, 2022 | 7:30 PM | MCA Stadium, Pune |
| 30 | RR vs KKR | April 18, 2022 | 7:30 PM | Brabourne – CCI |
| 31 | LSG vs RCB | April 19, 2022 | 7:30 PM | DY Patil Stadium |
| 32 | DC vs PBKS | April 20, 2022 | 7:30 PM | MCA Stadium, Pune |
| 33 | MI vs CSK | April 21, 2022 | 7:30 PM | DY Patil Stadium |
| 34 | DC vs RR | April 22, 2022 | 7:30 PM | MCA Stadium, Pune |
| 35 | KKR vs GJ | April 23, 2022 | 3:30 PM | DY Patil Stadium |
| 36 | RCB vs SRH | April 23, 2022 | 7:30 PM | Brabourne – CCI |
| 37 | LSG vs MI | April 24, 2022 | 7:30 PM | Wankhede Stadium |
| 38 | PBKS vs CSK | April 25, 2022 | 7:30 PM | Wankhede Stadium |
| 39 | RCB vs RR | April 26, 2022 | 7:30 PM | MCA Stadium, Pune |
| 40 | GT vs SRH | April 27, 2022 | 7:30 PM | Wankhede Stadium |
| 41 | DC vs KKR | April 28, 2022 | 7:30 PM | Wankhede Stadium |
| 42 | PBKS vs LSG | April 29, 2022 | 7:30 PM | MCA Stadium, Pune |
Best Betting Experience At Your Fingertips